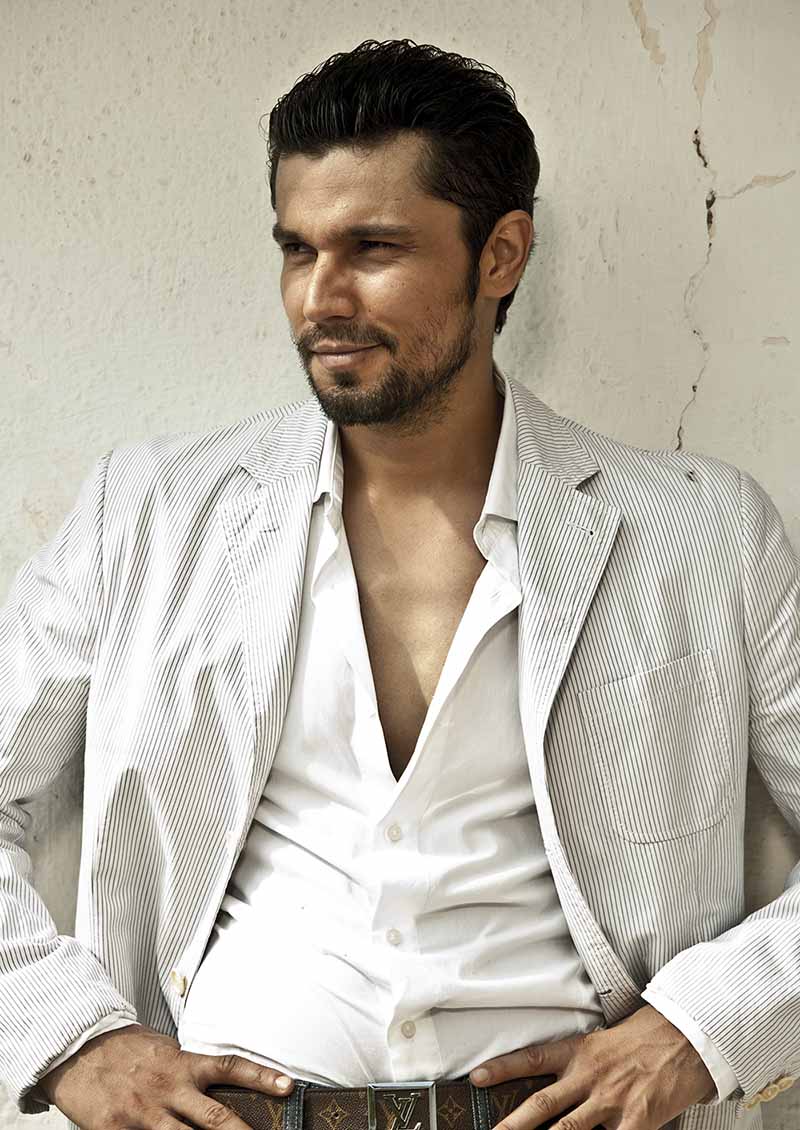 It's Saturday afternoon in Toronto and I'm nearly heading out of the door when the call comes in. "Randeep Hooda
has the time to do an interview. Can you call him right away? He can do a Skype interview if calling him long distance is a tough call for you." No, I'll call him now I venture, and dial the cell phone number in Mumbai. The gatekeeper voice of a woman answers the phone "Who are you?" she questions and I introduce myself, "What is this regarding?" she ventures, as I give her a rundown, finally passing the phone on to Randeep who begins to talk to me in a deep baritone voice—part Jat, part Punjabi, and totally Haryanvi. "Yes, brother?" he ventures…
Randeep Hooda as Jeet Johar plays the leader of a pack of Punjabi boys from Vancouver who deals in narcotics, guns and ammunition to make a fast buck. As the ruthless and often emotionless wolf he kicks ass, shoots rivals in the face, gets to wear Topman formals, blue leather shoes, white linen shirts and has sex with a blond and blue eyed Polish barbette called Katya in a manicure salon, no less.
Beeba Boys, Deepa Mehta's latest South Asian Canadian gangster movie is also loaded with bilingual expletives galore—in English and Punjabi. And Randeep Hooda in the titular role takes to it with ease, pointing his gun and mouthing obscenities at anyone who dares to cross his path. "Kiss my chittar" (literal translation: Kiss my ass!) a phrase used often in the film could very well be his signature statement to his competitors, de-motivators, and his exes after being in the Bollywood film industry for over a decade, and not tasting success till 2010 with 'Once upon a time in Mumbai'. His career graph denotes that irregularity with different highs and lows. He states that he did business management in Melbourne and returned to India in 2000 and a year later made his acting debut with Mira Nair's much acclaimed and award winning 'Monsoon Wedding' where he played a foreign returned graduate who is coerced into an arranged marriage by the rest of the family that includes Naseeruddin Shah and Shefali Chaya (of Dil Dhadakne Do). However after that runaway success came no work at all, zero, zilch, nothing. Cashing in on his good looks he took to modeling to pay the bills and to do a stint in theatre to improve his acting capabilities. During this time he also had a short affair with ex Ms. Universe Sushmita Sen.
A film with Ram Gopal Varma changed his destiny—for just a little bit. The film was 'D', the last of Varma's trilogy of 'Satya' and 'Company' where Hooda's character is based on the infamous Dawood Ibrahim. Both critics and audiences noticed his on screen dynamics. Which led to a series of hits and misses like—'Darna Zaarori Hai', 'Risk', 'Rubaru', 'Love Khichdi' and a hiatus (which could probably mean a series of no callbacks from producers because of his series of flops) until his breakout role in 'Once Upon a Time…' in 2010. He followed this up with 'Sahib, Biwi aur Gangster' where he was noticed for his tough cop avatar and then came a plethora of B-grade sex-n-crime dramas from the Bhatt's house of Hollywood rip-off's ( much like the Ramsay's and their cheap and tacky C-grade grind house horror films of the 70's and 80's). 'Jannat 2', 'Jism 2' with ex-porn star Sunny Leone and 'Murder 3' were clearly laughable in their soft-porn like plots and scenes galore that do nothing than to make their chief actors moan and groan. What a waste of good dialogue. Anyway, long story short, and thank goodness he bid adieu to the Bhatt camp, landing the role that has since defined the fact that he is indeed here to stay. And to give the 'gangsta' his due he did it without nepotism, or loyalty to camps, or sucking up to his directors.
In 2014, director Imtiaz Ali took a gamble by offering him the role in 'Highway' where he plays against type, and probably for the first time in his career did not have to bare his cheat, or his muscles, but instead got to have a go at demonstrating that he did have some great acting chops. Cast opposite a fragile Alia Bhatt he gains the audiences sympathy as a criminal with a big heart who falls in love with his captive. The film did fairly well at the box office, and that's all that counts at the end of the day, and Randeep was seen as the actor who could pull off a solo role on his own merits. 'Kick' opposite Salman Khan and Jacqueline Fernandez was released in July 2015 and became a hit, after which a long delayed 'Rang Rasiya' made it to the theatres where he made his presence felt essaying the role of one of the greatest Indian painters in the 19th century: Raja Ravi Verma—even though the film was dogged with controversy—nudity and a host of other issues.
Then Deepa Mehta's mother convinced her daughter to cast him in 'Beeba Boys'. On a long distance phone call in Mumbai after a long days work of press and publicity he recounts "I am a big fan of her trilogy, and yes her Mom recommended me after watching 'Once upon a time… and I absolutely enjoyed working with her. She is the quintessential gangster." And how is that possible, we egg, we need some more information. "Well…" He drawls "She's snappy, quicker than most, concise, non-melodramatic, brutal with her own writing, as the script was sometimes revised on the set. And some of the scenes were excellently staged." So was it a non-stop shoot to the finish? We ask him. "Yes, the film took 2 and half months to shoot. Although it is a Vancouver based crime drama most of it was shot in Toronto. The only thing I hated was that we did not work on weekends." So what did you do on those weekends that you were not working? "The person who was showing me around had a horse called Whiskey" he says (and for the first time there's a smile in his voice, it's quite clear that he loves horses with a passion) "And I taught Whiskey some new tricks, and trained him to be obedient. You see I play Polo in my free time, and our team is called The Royal Roosters. I also have a horse called Johnny Walker" Well, at least the guy has a sense of humor, and probably loves his Scotch like another actor, and a fellow Jat called Dharmendra. Tell us some more about your interests in this particular sport? "I keep six horses at the Mahalaxmi Race Course in Mumbai, and participate in professional equestrian sports."
That's pretty interesting, since he is one of the few Bollywood actors who is in the spotlight even when he is out of the studio spotlights. We bring him back to the subject of "Beeba Boys". Your character does not have an emotional arc, there's nothing to root for him. "I think you are wrong." And for a moment I panic, and think that I am on the receiving end of Jeet Johar, the violent character he plays in the film, and then quickly realize we're speaking long distance. "The character has a heart, but he never reveals his true self, he always wants to remain in character as a cold ruthless person who makes his enemies quake in their shoes. He is a threat to everyone else, and that's the way he wants everyone to perceive him as." Sure, point noted.
We move on to his scene with Khulbhushan Kharbanda who plays his father in the film. Talk to us about the emotional dialogue you have with your Dad in the film. "I question him about my relationship with him, because I am already seeing it in my son and me. That emotional disconnect is already happening, and I wonder, and constantly worry about what my son will eventually turn out to be. I understand that they did not have comfy jobs, and that they had to go through the menial side of things simply because they did not have the qualifications or the guts to go against the grain, and having grown up in that milieu, it actually disgusts me, so much so, that I have made my own path—criminal or whatever—it's the only place I relate to." He adds.
And how did he get into the skin of the character? "I met up with Jagdeep Mangat who is a reformed 'Beeba Boy' in Vancouver and got to know his insights first hand. It was just a question of shadowing his real life account, taking his real life experiences, running with it, and being real on screen. And I really tried getting the Canadian accent right." Well, at least he is being honest because to be brutal he quite doesn't, but that's okay at least he tried. Even Meryl Streep did not get the right accent in 'Sophie's Choice.'
So is he playing any more criminals in the future? "Sooner than you think!" He threatens. "I'm playing the title character of serial killer Charles Sobraj in Prawaal Raman's 'Main Aur Charles'. Call me again, and we'll talk about that film, and maybe you can have a Part II to this interview." He suggests. And as night falls in Mumbai, while it is mid-day here, and the theatres are buzzing with gunshots and foul mouthed Beeba Boys, we bid each other adieu. Very, very politely.
Jude Paul Fernandes jude@thesouthasiannews.com