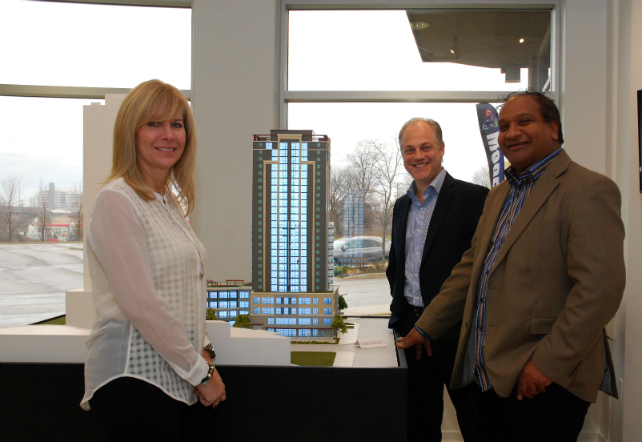 Kern Kalideen is the CEO of Trinity Ravine Towers at 1250 Markham Road; the newest and most significant residential development for Scarborough's retirement community that has been implemented and will be completed by 2018. Kern is also a CPA, CGA, with extensive financial experience and has worked for three of the largest financial institutions listed on the Toronto Stock Exchange (TD Canada Trust, Manulife Financial and RBC). His last role was Director –Risk Management at RBC. He is committed to sharing his knowledge and experience, to draw on his expertise and speak on Risk Management practices to an international audience. In addition to that, Kern has also been the Executive Pastor for Global Kingdom Ministries (A large Pentecostal church with a gathering of more than 2000 persons every Sunday) for the last 8 years, a member of the Board of Directors for 12 years and Chairperson of the Finance Committee for 16 years. He was Chairperson of the Building Committee and together with the Leadership team was able to successfully complete a $21 million building project in 2011 on time and on budget. The South Asian News profiles the man, his vision and the need of the hour for Scarborough's ageing population.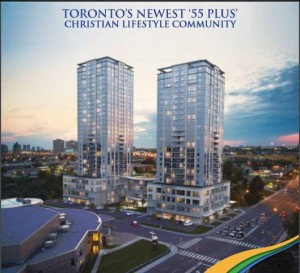 Talk to us about your newest development, it seems to be the most talked about project at Scarborough, and by the looks of it, is definitely going to be an architectural landmark
Yes, that is true. Toronto's newest '55 Plus' Lifestyle Community offers the best of both worlds in a tranquil ravine setting close to comprehensive amenities. This coveted address is almost next door to the Scarborough Town Centre, pharmacies, banks, grocery stores, restaurants, cinemas, places of worship, transit services, storage and gas stations. Highway 401 and Toronto's city core are minutes away. At this new residential neighborhood, the social, spiritual, recreational and future health needs of its diversity of residents will be met through community-based activities. What a glorious way to enjoy your golden years. Our renowned and gifted architects at Reinders + Reider Ltd. have designed the community's two high-rise towers connected by a four-storey amenity podium in light-coloured stone, in a blending of modern and classical styles. The Interiors are meticulously appointed by Johnson Chou Inc. and their ode to nature begins with the lobby, where a living green-wall and waterfall will bring the living outdoors indoors. Residents will also have the exclusive use of fitness and wellness centres; wheelchair manoeuvrability, common, craft and game rooms; concierge service; movie/media lounges; commercial spaces; a library; computer lab; and a 300-seat European-style community dining room where food will be prepared by an in-house catering team. Making the most of the Trinity Ravine Towers' location, the podium features a rooftop terrace with barbecues, a green roof and garden planters. Residents will in addition enjoy an activities courtyard, and the adjacent ravine will be planned with manicured garden areas and walking paths.
Considering the fact that it is predominantly designed for the retirement community from this suburb, is there anything else that sets it apart?                                                                                                                                                                                                                    
We plan to have a 24 hr response centre, a wellness area and emergency precinct. Partnering with OHIP, doctors and nurses will set us in a class apart.                                                                                                                                                            Above all, ownership at Trinity Ravine Towers is through a market-value Life Lease. Popular in North America and Europe for many years, there are currently 140 Life Lease properties operating successfully in Ontario. A great lifestyle and financial investment, the Life Lease is purchased at market value. You have exclusive use of your suite and shared common areas. Residents pay a monthly occupancy fee based on size of their suite to cover maintenance, administration and a reserve fund overseen by the board of the community's Sponsor, Global Kingdom Ministries (GKM). The Life Lease is flexible, allowing it to be rented out in some cases, or to be bequeathed. The one-bedroom to two-bedroom plus den suites with walk-in shower facilities range in size from 667 to 1,453 square feet. Each features high-quality appointments, expansive windows and a full or Juliet balcony.
Tell us a little bit about who is spearheading the project, and how does your expertise contribute to taking this leap of faith especially in today's economically catastrophic markets
For 60 years, Global Kingdom Ministries has been meeting the needs of the local faith-based population with programs such as food drives, ESL adult classes, children's soccer, community basketball, volleyball, badminton and a soup kitchen ministry that provides 750 meals per week, to name just a few. We've also had job fairs for migrants, school mentoring, free medicals, and knitting classes for seniors. We saw the significant need to house the demographic that we are currently in touch with, and that's how the idea for Trinity Ravine Towers became a reality. We are fortunate that the city envisaged a similar plan of action and partnered with us. We are never alone when we seek the help of others—this is the foundation of our faith as we unitedly seek the betterment of all.
Okay coming back to the project. Do Life Lease projects come under the Condominium Act? I guess that is a pertinent question on everyone's mind. Do you mind elaborating?
No it doesn't. However, Trinity Ravine Towers has incorporated many provisions outlined under the Condominium Act into its Life Lease Occupancy Agreement. In addition, the Ontario Ministry of Municipal Affairs and Housing recently published a Life Lease Resource Guide in February 2014 to be exact, and these best practices have also been incorporated into the agreements used for Trinity Ravine Towers. The Life Lease Occupancy Agreement being utilized for Trinity Ravine Towers is now being followed by the majority of the projects in Ontario, and incorporates the disclosure and protection provisions recommended by the Ministry of Municipal Affairs and Housing.
Finally give us a heads-up about yourself, up close and personal
I came to Canada from Trinidad 18 years ago. 10 years ago I was instrumental, along with others in building the Global Kingdom Ministry church. The church was built irrespective of the downturn of the economy in 2008. When you give your best, God gives you the strength and equips you with the resources to make it come through, and come true.
Jude Paul Fernandes is the author of 'Frost Bites' which is available at the Toronto Public Library. He is currently working on a novel 'Lonely in Mumbai' and can be followed on Twitter @JudePaulFerns